Duke Realty Furthers ESG Commitment by Earning Fitwel® Certification 2-Star Rating
World's Leading Certification System for Buildings and Communities Recognizes National Developer
Duke Realty Corporation (NYSE: DRE), the leading domestic only, pure-play logistics property REIT (Real Estate Investment Trust) in the United States, earns Fitwel® Certification 2-Star Rating for its four-story, 78,000-square-foot national headquarters building. The building at 8711 River Crossing Boulevard was completed in early 2020 and serves as the national commercial real estate company's operational base, housing its executive management team and more than 170 local associates who support its development, construction, leasing and property management activities in 19 major logistics markets across the United States.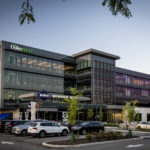 "At Duke Realty, we are a leader in sustainability and this Fitwel rating proves that our commitment to ESG starts at home, with the design and development of our own headquarters," said Megan Basore, Duke Realty's vice president of Corporate Responsibility. "We took a thoughtful approach to making our headquarters a safe place for our associates while promoting collaboration, community connectivity and efficiency, reflecting our company culture and incorporating amenities that encourage occupant health and well-being."
The Fitwel 2-Star Rating was awarded to Duke Realty headquarters for its leadership in health-promoting design and management that support the physical, mental and social health of the building's occupants, which include:
An indoor air quality policy that includes increased circulation and a tobacco/smoke free environment
Walkability and proximity to community amenities as well as multiple transit opportunities for building occupants
Outdoor amenities including walking trails and restorative garden
Workspaces with abundant natural daylight, views of nature and active workstations
Collaborative shared spaces and personal health break-out rooms
Design strategies promoting physical activity through signage, accessible and inviting stairways and an on-site fitness center
Informative health programs for building occupants
A comprehensive emergency preparedness plan
Fitwel is a rigorous third-party healthy building certification system operated by the Center for Active Design (CfAD). Fitwel was created as a joint initiative between the U.S. Centers for Disease Control and Prevention (CDC) and the General Services Administration (GSA) to set the industry standard for evidence-based strategies that promote positive health outcomes for building occupants and communities. Fitwel translates global scientific and industry expertise into practical approaches that address our greatest health challenges.
Sustainable development is an integral component of Duke Realty's commitment to corporate responsibility and being a good environmental steward. Earlier this year, the company published its 2020 Corporate Responsibility Report.
About Duke Realty
On a nationwide basis, Duke Realty owns and operates approximately 160 million rentable square feet of industrial assets in 19 major U.S. logistics markets. Duke Realty Corporation is publicly traded on the NYSE under the symbol DRE and is a component of the S&P 500. More information about Duke Realty is available at www.dukerealty.com. Duke Realty also can be followed on Twitter, LinkedIn, Facebook, Instagram and YouTube.

To become an IWLA member visit, https://www.iwla.com/become-an-iwla-member/